Posts Tagged 'Alen Islamovic'
Oh Former Yugoslavia, I love you, I love you, I love you! More brilliance from the 80s…
Bijelo Dugme performing "Hajdemo u planine", featuring Goran Bregovic in pink pants and chucks, and Alen Islamovic with shoulder pads and GLORIOUS hair.
(I promise to update with something other than this soon…..I'm just kind of, sort of obsessed with music from the mother country these days.)
The other day I was lazing around on campus with Zig. We were supposed to get our new IDs but the queue was too long. Instead we drank amazing Coffee Cart coffee, smoked Marlboro Golds, took photos, ate sushi, bought books and migrated from one sunny patch of grass to another four times.  I keep forgetting that being a student isn't just about that….that there is work to do as well. Still, I'm really looking forward to starting the semester. People to see/meet and things to do and things to learn. I've been reading from "Munitions of the Mind", the text for one of my subjects – Propaganda and Satire, and it's really interesting. The subject I'm most looking forward to though is The Art of Political Science…not just because it interests me as a subject but because it'll be taught by my favourite professor, Dr. Levey, the one who told us this joke: "what do you get when you mix a member of the Mafia with a post-modernist? …….an offer you can't understand."
ALSO: check out Andrew's new blog, where music nerd meets real life nerd who likes to talk about science…..and stuff; Kylar is back from overseas and has posted new music on his blog so go have a listen.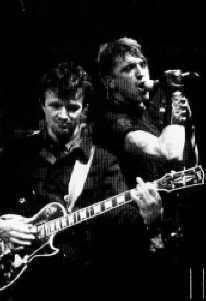 & finally (I can't post an entry without something Eastern European in it, can I?), since I've posted Zeljko Bebek and Alen Islamovic here, I thought it was a bit unfair to not post any Tifa. I didn't know much about Tifa when I was starting to like Bijelo Dugme. Maybe because he had the shortest time as their singer or because I was so distracted by my crush on Islamovic…? When I saw them live in concert, all of them had gone well past their use by date but Tifa was the worst, acting really inappropriately on stage and being so fucked up by the end of it that he couldn't even come up on stage for the final songs which they all sing together. It's really hard to find footage of Tifa but what I did find on YouTube is AMAZING. Tifa was this beautiful drug-fucked incredibly talented singer and I have fallen a little in love with him. I was going to post one of those big Bijelo Dugme power ballads but the video was really poor quality so here is what is apparently Tifa's first concert with them.
Of the many, many wonderful Eastern European things I have discovered on YouTube, this has got to be my favourite. There are some bands that I truly love (EKV, Elektricni Orgazam, Van Gogh, Riblja Corba, etc) then there are bands such as this one that I go through phases of liking. Sometimes when I'm feeling melodramatic I put on the songs Alen "I Wish I Was Jon Bon Jovi" Islamovic sings (but always on my headphones, so no one knows what I'm listening to) and sometimes they are just good to drunkenly sing and dance along to.
But this video has completely and totally won me over.
It proves the sheer brilliance that you get when you mix that typical 70s rock'n'roll sound with filthy Eastern European vibes. IT. IS. GENIUS! "Wog'n'roll"
….aaaah who am I kidding, I can't resist the sleazy charms of Islamovic. I have to add a video of him here.