Posts Tagged 'heat'
Some things I've been up to since I last remembered to update…and with my memory, I bet I'll forget about a bunch of things:
- Hung out with my friend Anni from Albury-Wodonga. I've known Anni longer than I've known most people, yet we've only actually seen each other in person twice. We (plus her boyfriend Dan) hung around Hyde Park a bit before they had to head back to the airport.
- Went to Drazen's Slava which was…uncomfortable. I really dislike his parents and the people they know. Jasmina, Nikola and I left soon after, hung around Black Rose for a while before Nikola had to go to work, then Jasmina and I went to her place and watched Family Guy for a while.
- Hung around a park near my house in the early hours of the day a few times.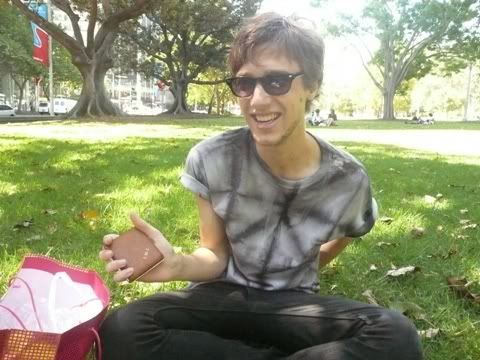 - Hung out with Morgan in Hyde Park & went to Big Day Out with Morgan, Mark and Nina (and some of their friends), which was a lot of fun, minus the intense heat. We saw bits and pieces of Tzu, The Grates, Lupe Fiasco, The Ting Tings and some band inside Lilyworld, but the bands we actually saw were Pendulum, Simian Mobile Disco, Hot Chip and The Prodigy. Pendulum and Hot Chip were both really good but Simian Mobile Disco and The Prodigy were fucking amazing!!! During The Prodigy someone broke a giant glow-stick in half and started pouring it all over everyone…for like a minute it was the most fun thing ever but then it started to burn our skin and we had to frantically look around for water to wash it off. I sustained many little injuries on the day…some of which I'm still recovering from, a week later! But it was a really good day and I don't even mind that we missed Neil Young, because The Prodigy were so insanely good and perfect for how I was feeling.
- Saw The Prodigy at the Hordern Pavilion with Jasmina, Nikola and Nenad which was once again, totally fucking amazing. I could actually focus on the music this time which was great. They are just….so, so, so good! I got a sweet Prodigy bag! At the end, as the crowd was leaving one of the songs playing was that Can't Take My Eyes Off Of You song and everyone was singing along. It was pretty great! Also, The Prodigy ended with Out of Space and cut off the sound right at the end to leave just the crowd singing! Was awesome.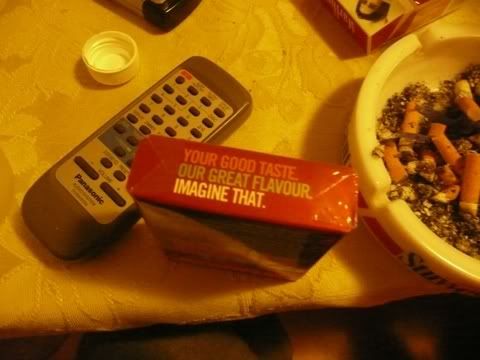 - Spent three consecutive days in The Ghetto. Day 1 was spent hanging around Liverpool with Jasmina and Nikola, then playing pool in Bonnyrigg (and being patriotic because it was the Bonnyrigg Serbian Club!), then after Nikola went to work, going to my place to eat, then back to Liverpool where we hung out with Nenad, Drazen and Milan (Nenad's brother) in Memorial Avenue…then Drazen went home and we went up to Nenad's to watch Resident Evil & How I Met Your Mother.  Day 2 was Nenad's Slava which was mostly just a lot of hanging around Nenad's room looking up hilarious, horrible 'music' video clips from Former Yugoslavia. So bad yet so fucking funny! And completely, completely inappropriate. Day 3 was Nenad's 20th birthday. We spent the night drinking at his place (well…I wasn't drinking but I was so sober, I felt completely out of it!) which was a lot of fun until someone who shall not be named got too drunk and too loud and we got kicked out of the apartment by Nenad's scary mother. But before that happened, lots of all-male nudity and bonding managed to happen… (More photos here.)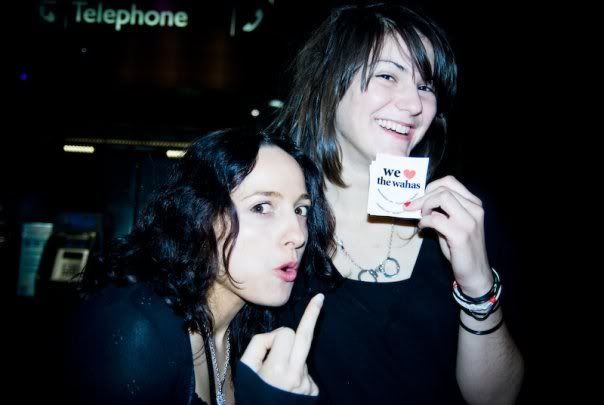 Photos of The Wahas & Marie and your truly, taken by ANNIE LY.
These last few days have been good, except for the intense heat.
On Tuesday I went to Job Find Training again (painfully boring and useless), then hung out with Andrew later on and learned the rules of 20/20 cricket. On Wednesday I went to the dentist, then to see The Wahas at Spectrum with Annie and Marie. We were also joined by Leesy, Dave and Serena & Morgan, Mark and Nina but they all went in separate ways instead of inside Spectrum where they should have been. The Wahas played a great gig and if you missed it this week, you can see them for the next two weeks, Wednesdays, at the same place, same time, same price (Spectrum, 8pm onwards, $10). I strongly recommend everyone see this band. They are amazing! Today I went to Stanwell Park with Jasmina, Nikola, Nenad and Drazen to laze around on the beach. It was so nice. The weather was much cooler than in Sydney and I love going up and down the coast every now and then just to be somewhere a little more quiet than Sydney, and a little different. It makes me crave a road trip around Australia. The waves were so strong that I was toppled over by them and almost taken out to the deeper water because I couldn't grab onto anything and was just getting pulled by the power of the water. Basically, the ocean made me its bitch. We bought hot chips from a place that was a café, fish and chip shop, newsagent, video rental place and general grocery store all in one. Impressive! Driving back with the windows down, insane wind blowing on our faces, sunnies on, sand everywhere, messy hair, blasting Zana's Dodirni mi kolena. Oh yes! It was such a good day. I took lots of photos with my camera from the 80s named Dani California, which I am looking forward to developing. (I have 3 films waiting to be developed, and no money whatsoever.)
I'm also really looking forward to the next few days but my financial situation is kind of a cunt which may get in the way of me really enjoying myself… Lame.
I'm becoming strangely attached to my dreadlocks. I really want to get this haircut I've been lusting over for ages, but the thought of cutting off my dreads makes me a bit sad…