Posts Tagged 'insanity'
Last Friday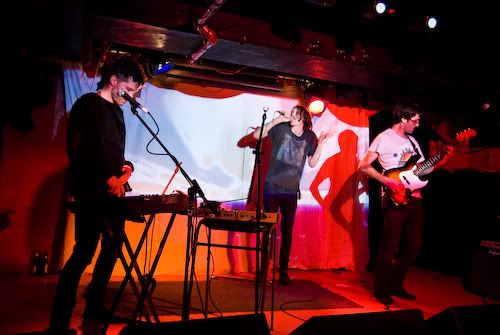 I went to the dentist to have my teeth cleaned. Having to bite down, for three minutes, on some weird rubber device with fluoride (I think) on it is incredibly uncomfortable.
In the evening, Annie and I went to the city. I was wearing these stockings that have a rip in them that looks pretty good but then I was playing around with it and it ripped a little too much. I got paranoid about the stockings just coming apart so we had to find a new pair somewhere. 7-11 comes in so handy sometimes. There were some really weird noises in the sky as we walked to Kings Cross; we couldn't figure out if it was thunder, fireworks or bombs. Anyway, so we got to Candy's and in a hilarious incident with the security guards, got our precious vodka taken away (but they were nice enough to give it back to us later). Then we got free entry thanks to Darren. (I later found out Outrun put me on the guest-list – awww.) Inside we met up with my friends-from-the-ghetto Jasmina, Nenad and Drazen who had surprisingly decided to come along that night. Drazen and Nenad bought me a lot of drinks and let me drink theirs too which was nice.
A band called Yen played a really long set. They were pretty good. Kind of mellow and interesting. Sujin and Marie joined us also. Towards the end of Yen's set, Annie and I went outside for a bit…to…get medicated…and then we went back to Candy's and saw Outrun play. AND THEY WERE REALLY FUCKING AMAZING. The only downside was the length of their set – nowhere near long enough. But they were so, so good, especially considering that chatting to Josh beforehand, I found out he'd had three hours of sleep! So, rather impressive. I fucking love this band! After their set, we stayed around for a while drinking and dancing and being amused by Drazen's antics. Was fun!
The night ended with an hours-long gutter party, with my friends-from-the-ghetto leaving Annie and I…I don't think they appreciate the beauty of gutter parties. One day they will learn! It was a really good night but I had a killlllller hangover the next day.
This Friday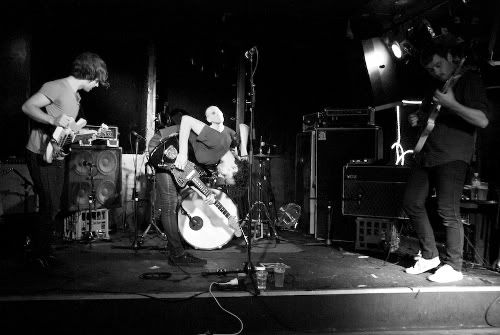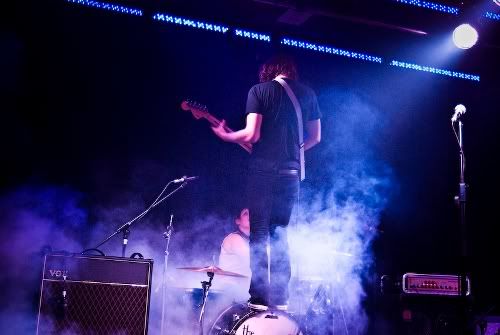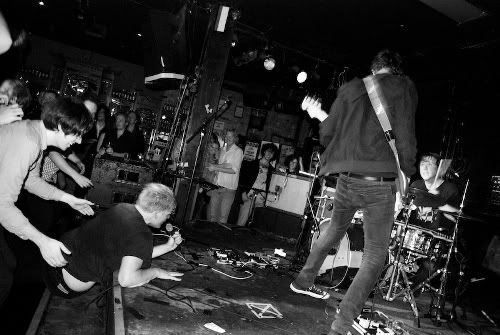 Last night ended really early but for some reason, it felt like we'd been out forever. I guess we did a lot in a short amount of time.
First, Annie & I went to see Ohana play at Spectrum and they were so good! That was the first time I'd seen them play live and I was as impressed as I was when I first heard them on FBi. I need to discover more bands like them (suggestions, anyone?).
Then we went down to the Oxford Art Factory to see The Vignettes play and they were, as always, heaps of fun and completely incredible. There was a little fan club happening at the front of the stage and they were adorable. After they played, we talked to Natalie and Aaron for a bit, from The Revolution Artist Services, about music and TEETH and other good stuff. They're both so lovely, and I was completely jealous hearing that Aaron has seen Nirvana live! There's some good stuff being planned between The Revolution Artist Services and TEETH so…stay tuned!
Then back to Spectrum to see Die! Die! Die!, a fucking brilliant band that I absolutely love seeing live because it is always complete insanity and sweat, bruises, spilled drinks, loss of inhibitions, etc. They always put on such a good show!!!!!!! They need to come to Sydney more often. I very rarely see people lose their minds that much at smaller gigs and it's amazing! Ran into Taps, Andrew and Myers there too which was cool.  
After that neither of us could stop talking about how amazing it was and so we regretted going back to OAF where The Protectors were playing because it kind of ruined the good vibes a bit. Seriously…just because you look interesting doesn't mean you should be a band. Also, looking like the lovechild of Steven Tyler and Mick Jagger doesn't mean you are either of them.
Then we had to leave early because Annie's sister was offering us both lifts home if we came back not too late, and since we both hate the amount taxi drivers charge, and since yesterday ended with me having 85c to my name, we took up the offer.
How I survived with no money: bottle of vodka left over from last week + Annie buying me drinks (thanks dude!) + my father's spare change jar for Spectrum entry & train ticket. Whoooo!
(Photos by ANNIE LY.)
I've been feeling down but I have ways of dealing.
Yesterday I met up with Kylar in the city and we went to American Apparel where he spent forever trying on clothes as I wished I'd been born a boy because their clothing is much better. Except for the heel-wearing girls get to do, but I'd wear heels even if I was a boy, and I don't actually get to wear heels much now because I am a giant and also don't really know how to walk in them. Anyway, the customers at AA bugged me a little but the employees are lovely, and Kylar bought green jeans. Then we had coffee at Bill and Toni's, wandered around…I guess we wandered around a lot because I sort of lose track here and we end up at Jet…oh yeah, we went to get Kylar's novelty lighter fixed but that didn't really work out. We saw Albert so he joined us for a while at Jet. He was waiting for a friend who was an hour and a half late and we left a little after she arrived. Kylar went home to feed the cat and I went home to watch too much TV, then talk to Nenad until 3rd Rock From the Sun was on at 1.30 in the morning, doing lots of sit-ups in between because I have lost my mind and think that sit-ups are the cure for everything. (Since 10th November, I have done 1120 sit-ups and 450 crunches altogether. Go me!)
Today looked good to start with, then absolutely everything turned to shit rapidly, I did some crying, etc and then decided I had to make myself feel better or else, so I left the house in a hurry, went to the city with about $5 to my name & walked up Broadway giving my resume out (I am so desperate for a job I even gave my resume to that horrible Goth-by-numbers store near Easy Way). Then I walked further down to the University of Sydney where I met up with my sister and we walked to Newtown where she bought us Thai food for lunch and we wandered King St for a bit. By this stage I'd basically completely forgotten how miserable I'd been earlier. I just need to keep myself distracted. Then we went back to her uni, to her interesting but sort of depressing lab (it's fascinating but spending long hours there would be horrible) where she finished an experiment. To my disappointment there was no fire, smoke, bubbling liquids…nothing. Science isn't as fun as they make it seem on TV! Then we headed homewards, and she continued towards Liverpool to meet up with friends.
My Canadian cousin Vlado was at my house; he'd had lunch with my parents and so we hung out, talking, watching TV, etc. I found out he's got a job at the same place Kylar works, so I warned him about it. Oh and then I got my grades and that sort of brought the good mood to new levels.
So the downside now remains that I am broke as a fucking joke, have no idea how to get any money, am on constant bad terms with my mother and my sister is going away for the weekend! But I'm ok and am seeing Die! Die! Die! & Ohana tomorrow regardless of the money situation…I'll figure something out (dentist money, anyone?).