Posts Tagged 'Katie'
Thursday, 18th
Up early, lift to the city from parents who were driving to the fish markets, walk from Pyrmont to Town Hall…overly nice Red Cross money collector complimented my hair (and noticed it was dreadlocked…most people just think it's a manic growth on top of my head) and my fork bracelet…met up with Kylar, coffee and cigarettes all over the place, Hyde Park and Bill & Toni's and Hyde Park again….home, Slavica and Jasmina helping my mum cook for Sveti Nikola, but had to leave soon after I arrived…all day running around helping with whatever needed to be done around the house…late night Oz watching. Consumed five coffees and was still dead tired.
Friday, 19th
Sveti Nikola, my family's Slava. I am horrible at getting into the spirit of things so I mostly hid in the living room and avoided all the guests who were in the sun room. I get really awkward every year because I rarely see a lot of those people, and there's the confusion of whether I should just shake their hand or do I need to kiss them as well, and do I kiss them once or three times, and what the hell should I talk to them about, etc. Plus, every year someone makes a comment about me losing weight, which makes me wonder if I was obese as a child or something… Towards the end of the night I managed to get away with sitting on the couch and reading as most of the guests had left, my parents were with the older ones and my sister with her friends, and Jasmina had left – these days I have only a few Serbian friends, and those that I do have go to Nikola's house because his Slava is also Sveti Nikola, and as they've been going to Nikola's well before they met me, they of course still go there. Plus, everyone gets drunk there so it makes more sense anyway. Our house tends to be a bit quieter. Sveti Nikola reminds me every year, very blatantly, just how hard it is for my family to spend a day together and get along. The upside is waiting for midnight so I can eat chocolate.
Saturday, 20th
Kalaediscope fun; Emma; Kylie; Seeta & T-Nev; Katie & moi; Arex
During the day, Annie and I went to a small zine fair that was happening at the first Voiceworks launch to happen outside Victoria. It was nice. Small and kind of quiet, and the people that came along didn't really seem to know what zines were, but it was chilled out; I mostly sat around reading and occasionally talking to the kids from Just Like Candy & the Black Rose Anarchist Bookshop (on Enmore Rd, Newtown). Afterwards we wandered around a bit, bought a present for Emma which was directly responsible for us speaking Engrish all day – part of the present was a Guns n Roses cigarette case. On the side it had a warning label against smoking but it said something like "cigarette smoke the harmful health"…what the fuck? So all day we were speaking Engrish – replacing every L with an R. "hero, may I have a rarge vanirra mirkshake?" Then I went home, frantically rushed around for an hour getting ready to leave again, then off to Scary Canary…which is a terrible venue but Up the Bracket happens there and it featured good people + vodka and therefore wasn't horrible like the venue is. Good company featured: Emma (we were celebrating her birthday), Alex (Arex), Katie (ok just quietly, I'm sort of in love with Katie), Kylie, Seeta, T-Nev, etc. Seabas played a bit of November Rain – hell yeah! After a while we went to Emma's (new) place which I really like. Stairs everywhere! Emma put on The Doors and packed a cone as soon as we walked in which made me very happy.  Katie asked me why I love The Doors and I really couldn't put an answer into words – they are just so special to me. Bit of hanging around, being lazy, that sort of high when sitting on a couch with a blanket is just like the most perfect thing, then we wanted to watch That 70s Show but the speakers connected to the fancy-computer-TV weren't working so instead we watched so-bad-it's-good Stripperella on SBS, then something else I don't remember, before we went to sleep.
Sunday, 21st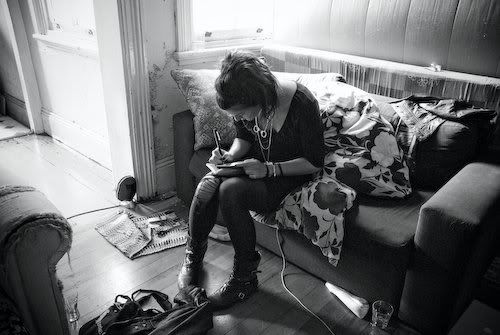 I woke up around 9.30 and Annie was already awake. We sat on the little balcony smoking – I really wanted to have a cigarette first thing in the morning because I can never do that whilst living at home! Then we wrote a note for Emma and left before her housemates, who we don't know, got up to find two weird kids hanging out in their living room. Wandered the city in search of a pretzel (nowhere to be found!), then went home. I napped on the couch, watched Oz, and otherwise generally lazed around.
Monday, 22nd
Spent the day in a really unexpected unbelievably happy mood. I don't even know why! I just feel good all over. Have lazed around in the sun, reading, listening to silverchair's Live From Faraway Stables, Love, Alice Coltrane (the last two thanks to Kylar), dancing around the backyard like a character from Hair, discovering Gogol Bordello and reconnecting with my Eastern European roots with mad gypsy music. Good times.
(Photos by ANNIE LY.)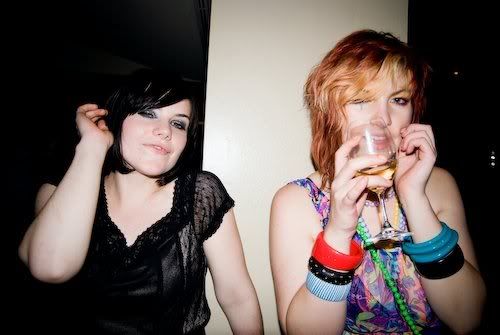 Halloween this year was really good. I think we need to embrace this holiday a bit more in Australia. Smearing fake blood everywhere and dressing up (as a witch, vampire, zombie, Cyndi Lauper, trashy zombie secretary, Ali G, Spider Man…) should be acceptable more often. And we still got some strange looks from passers-by. Maybe they'd forgotten what day it was. A couple of Irish dudes embraced the Halloween spirit though and were persuaded to put some fake blood on their faces when they were borrowing a lighter from us.
Annie, Zig & I started celebrations in Hyde Park with vodka slurprees and fake blood application before going to The Manhattan for the opening night of Robot House. I'd been on antibiotics for so long before (once for bronchitis and twice thanks to my wisdom teeth) that I hadn't been able to drink for a while so I really enjoyed Friday night. There was a great house party vibe at Robot House – some of my favourite people, fucking brilliant song choices, lots of booze, sing-alongs (an impromptu "Who's Got the Crack?" performance at the end) and photo-whoring, plus bathroom bonding over shots of vodka and stories by Alex about Los Angeles in a sort-of-alley (Alex is so ghetto, it hurts).
When the night wrapped up, we (Annie, Zig & I) met up with Kylar for a while during his work break as a bunch of kids skated around us on Martin Place, one wearing a Jim Morrison shirt. Then to Q Bar (by this stage I was carrying my heels; classy) where they played "Whoomp! There It Is!" and therefore won my heart. They have little booths to stash bags/drunken friends in and they have a photobooth and they have a giant portrait of Lenin. Seriously, just about the only downside is their disapproval of pool-table-dancing. I love the stairway that leads up to Q Bar as well. And I was actually hanging out with Emma! We always talk about how we need to hang out but it happens so rarely. But when it does, it's gooood! At one point I thought it was a really clever idea to dance underneath the pool table if we couldn't dance on top of it. Of course it just ended up being Emma & I lying on the ground. Annie took some photos then deleted them going "oh god, this isn't meant to be Girls Gone Wild!" All class.  
When Annie & I were heading home with that sort of seedy feeling you get when you're starting to sober up and you realise how tired you actually are, we had Oz Turk pizza because nothing tastes as good at five in the morning, even with the bad music playing and the creepy plastic eyes hanging on every corner. Kylar claims this is why I felt really sick the next day. Something about a rather large percentage of hang-overs actually being minor food poisoning from the kebabs consumed the night before?
Then I curled up on the train and completely blacked out between "next station is Redfern" and "next station is Merrylands" as Annie listened to Black Sabbath. When I came home I realised I must have scared a few people on the way, probably my poor taxi driver as well, because there was fake blood smudged all over my face and my eye liner had sort of melted all over the bottom of my eyes. Such a good look. I was really glad my parents didn't see me before I took a long shower.
That photo of Kylie and Katie Cyndi Lauper was taken by ANNIE LY and you can see lots more by checking out her blog.