Posts Tagged 'Nikola'
Things have been good. I've been in a good mood most of the time. I find myself smiling ridiculous amounts, listening to my favourite band of all time, The Doors, a lot and just generally being happy, even when broke, unemployed and somewhat stuck in the suburbs. (The only thing getting me down is a chunk of the Serbian community that has been gossiping about me being a junkie. Thanks a lot, folks. As if I didn't feel removed enough from that community already!)
Nikola and Jasmina are still in Byron Bay, making the south-west a little less fun, but Zig is back from Kempsey, making Sydney ten times better. We hung out in Newtown the other day, my Happy Place where I need to move to soon, and I saw this girl I once met in Hyde Park when she and a bunch of others asked Morgan and me to join their 'party'. (Read about that here.) She calls herself Poppy Salmon and is really adorable and wears lots of bright colours. She recognised me before I could figure out where I knew her from.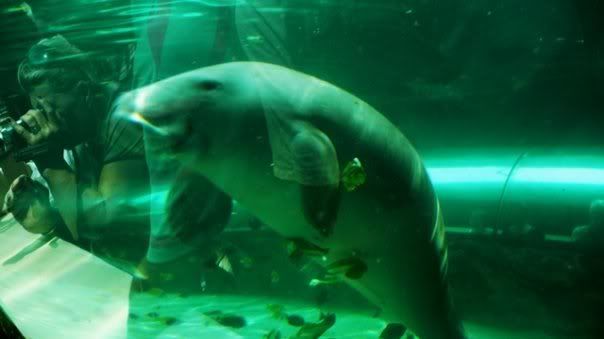 Also, I got to hang out with Emma, finally – it had been too long. We + Morgan went to the Aquarium to see the greatest creatures on the planet – my beloved dugongs. I was so happy, I almost cried! They are so fantastic! That was a really good day. The Aquarium is such a relaxing, lovely place to be; entry should cost less because if it did, I'd be there every day! Emma changed that Killers song into "are we human or are we dugong?" because she is brilliant like that! (Photos here).
I finally wrote that review that was taking forever. It's up on The Dwarf: here.
Also, help me decide. 5th April – to take part in a zine fair in Wollongong OR to see Evan Dando at the Annandale? Or to somehow squeeze both in?