Posts Tagged 'phone'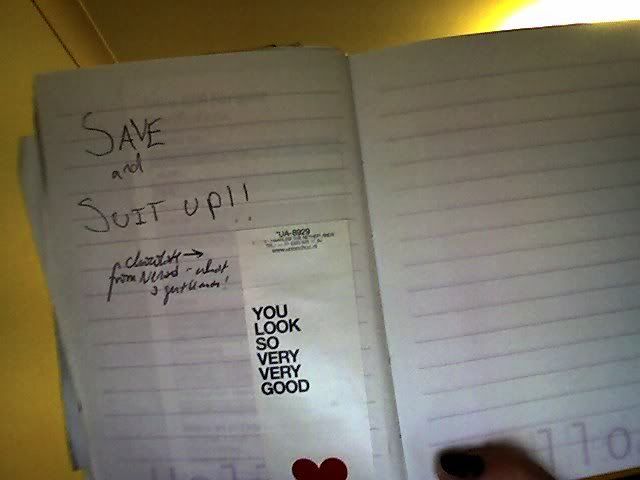 Postcard from Mexico (thanks Kylar!) & chocolate from Nenad
Don't get offended
If I seem absent minded
Just keep telling me facts
And keep making me smile
Don't get offended
If I seem absent minded
I get tongue-tied
Baby, you've got to be more discerning
I've known never known what's good for me
I will be yours

-Bloc Party
Yesterday evening I called Nenad & Drazen down to the 'burbz to have a cigarette with me because these days, I seem to surround myself with people I can't smoke around. We smoked and gossiped in a quiet street in Drazen's car, then drove down to Black Rose for hot chocolate/peach ice tea/cappuccino (me/Nenad/Drazen).
Today I had another appointment with the Dentist of Doom. Since last week's horrible experience when I felt I was suffocating and had a mini panic attack halfway through, going to the dentist has become even more intolerable than it previously was. Just a few more appointments…
The lovely people who develop my photos thought there was something wrong with my camera because the photos are Supersampler! How cute! (….stay tuned for a post with my new Supersampler photos!)
My new phone is so complicated!
I have a review to write and I seem to have "writers' block".
Oh yeah I'll tell you something
I think you'll understand
When I say that something
I wanna hold your hand
I wanna hold your hand
I wanna hold your hand
As of tomorrow, I won't have to worry about running out of credit because I'll finally be on one of those plan deal things which allows me lots of spending money for $50 a month. Thanks mum! I got that arranged today in Fairfield thanks to my sister's boyfriend, Sasa. Fairfield is such a disgusting place. I was there for less than an hour and managed to get harrassed from various cars by various creeps. The upside is that I got two records from Vinnie's for my Funny Record Cover collection…well one really; the Waterboys one was just too pretty not to buy.
I caught the bus to Fairfield which was a bad idea because it took almost an hour to get there, but a good idea because I started writing a FICTIONAL STORY whilst driving through suburban hell. I haven't written one of those since….Creative Writing in Semester 1 last year? That made me pretty happy. On the bus home, I made the mistake of sitting up the back where I was stuck with a bunch of loud high school kids who were saying things like "aren't gay guys usually like really skinny and girly?" and also made me feel really old.
New CD review here…