Posts Tagged 'zine'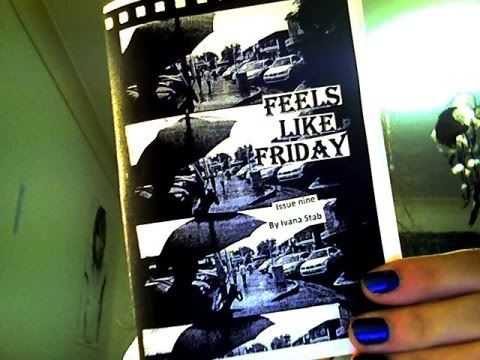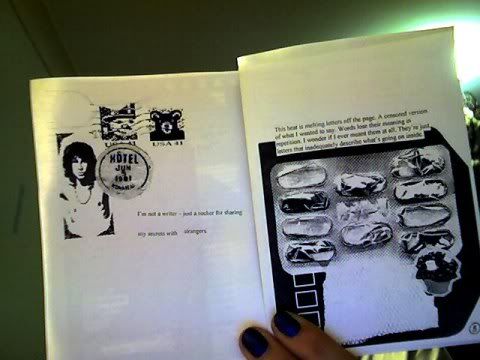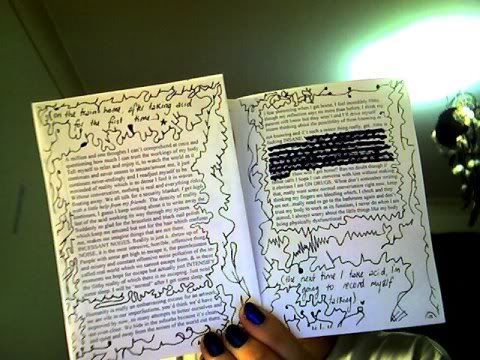 FEELS LIKE FRIDAY, ISSUE #9, IS DONE!
Writing about: trying to write; reality or lack thereof; boy(s); driving down the coast; identity through nationality; the usual. Short pieces of writing, mostly. Photos. Cut and paste. Made with love and angst. $2 or trade. Email ivanaforpresident@hotmail.com
Issue #8 of my perzine Feels Like Friday is DONE. Sixteen quarter-sized pages of angst about me, uni, me, employment, me, national identity, me, boy(s) & me. To get your hands on a copy, email ivanaforpresident@hotmail.com. It is $2 or a trade for your zine/a mixtape/something else.
"Ran into E, this kid who went to school with me. He's got his girlfriend's name in ink along his left arm.

I can't decide whether another cup of coffee is a good idea and if I should leave the house or stay inside.

or to have peanut butter or jam on my toast.

& they've got such certainity, making ir/rational choices to get married, take each other's last names, move in together, abandon every other option

& I still can't decide whether to get up in the morning or to lie in bed waiting for some better option to present itself to me"